Latest News
First Presidential Model Parish Project Launched in Fort portal

The first ever Presidential Model Parish Project has been launched in Kabarole district, with several farmers receiving livestock.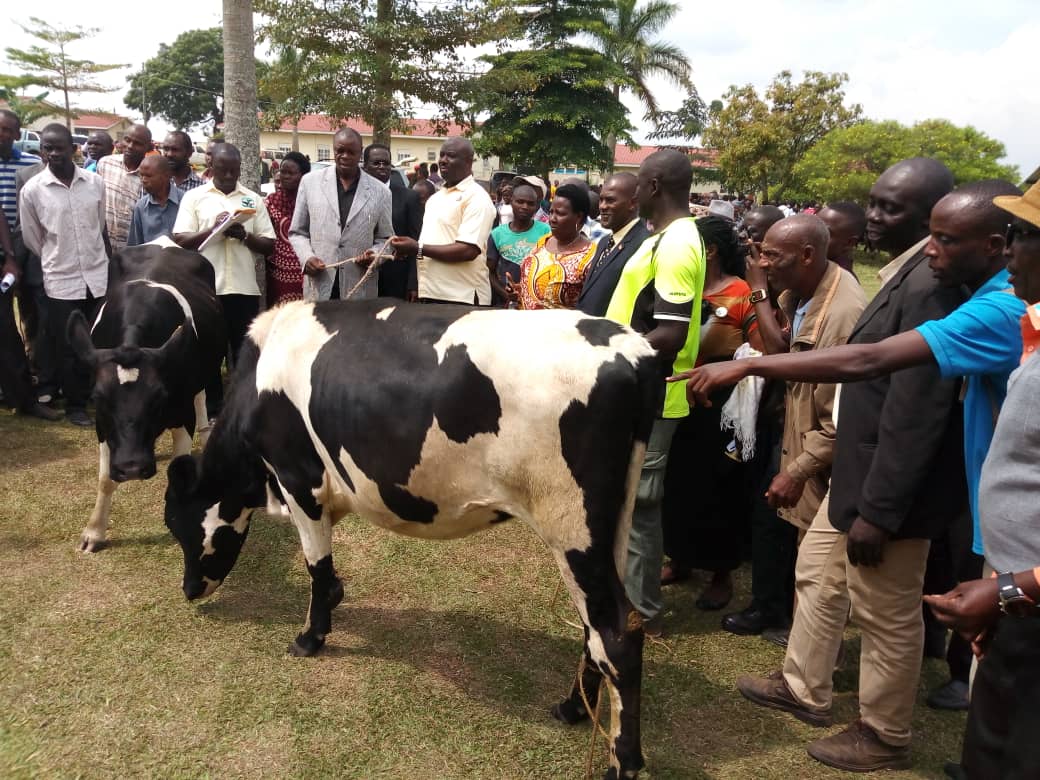 Rwengaju Model Parish Presidential Project in Busoro Sub County was launched on Thursday. Kabarole District Chairman Richard Rwabuhinga revealed that Rwengaju was declared a model parish by President Yoweri Museveni in 2008 when he visited a home of the Late Kabagambe, one of the progressive farmers in the area. Rwabuhinga said the President promised to develop Rwengaju into a model parish by supporting farmers, and that the area would be a learning center for farmers from other areas to share knowledge and experience on modern farming.

"I thank President Museveni for transforming this area through modern agriculture and the technologies our people have received. I strongly caution the beneficiaries against eating the livestock but urge you to look after them to multiply so as to generate income to educate your children and improve your household status," Rwabuhinga said.

He revealed that as a district they are specializing on Agro -Processing Industrialization to add value to farmers' produce. The launch was officiated by Ham Mugenyi, the Board Chairperson Uganda Development Corporation (UDC) who represented Operation Wealth Creation (OWC) and the Chief Coordinator, General Caleb Akandwanaho Salim Saleh.

Mugenyi urged residents, especially beneficiaries of the project to change their mindset from subsistence agricultural methodologies to commercial farming. He noted that countries that embraced the idea of industrialization, by adding value to local produce, have since developed.

"Since Rwengaju is the first model parish to be established by President Yoweri Museveni in the country, as UDC we pledge total support and this would be used as a learning center/parish for all districts," Mugenyi said. A total of 500 improved piglets and 150 heifers were given to residents during the launch. The parish will also receive 15,000 chicks, 1500 exotic goats and Sh200million for SACCOs.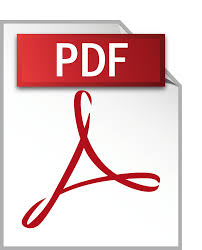 Full speech: President Museveni's address on national state of affairs.
Farmers asked to form groups to get government support

The Uganda People's Defense Forces have announced the second roll out of government support from Government to local farmers under the operation wealth creation project. Under the second phase, farmers will be required to form groups from 61 in rural-based areas, 41 in urban areas and committees of 9 people in different villages across the country.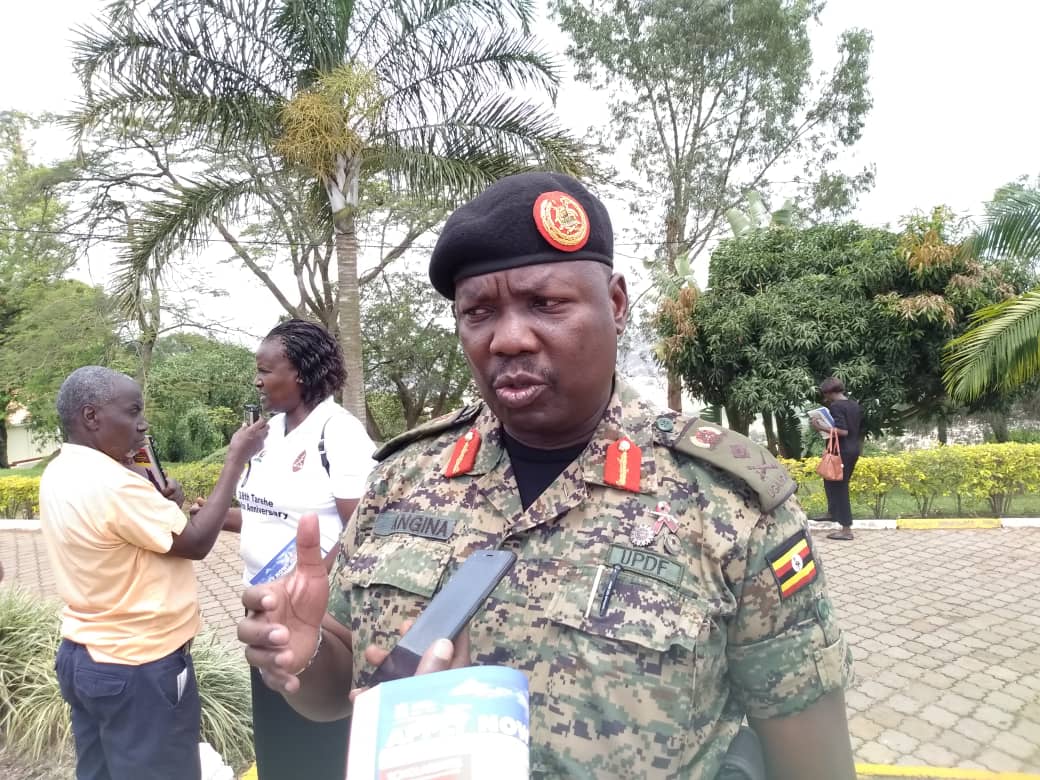 "We encourage them to form committees for management, for supervision, committees for finance and investment and then committee for technical for value addition, because we want to go agro-industrialization so that whatever they do, there is value addition," said Gen. Angina

He emphasized that the committees are for collective responsibility to ensure that you cannot compromise an individual. "In finance where we find a group with a treasurer, we know that it is liable to miss the rest of the group because if the treasurer is compromised then you lose everything, we even believe that we take lessons from other failures that have been in cooperative, in SACCOs because of compromise" he stressed.

Deputy Chief Coordinator of Operation Wealth Creation Lt. Gen Charles Angina is now asking different farmers to start mobilizing themselves to groups to benefit from the free distribution of seeds, animals and other agricultural inputs. Gen Angina says farmers who will be organized stand the chance to be the first beneficiaries of Government support to local farmers

"We intend to see to it that we form farmers groups so that they themselves will choose what they want to plant. We only guide them that in this ecological zone you should not grow what will not do well. Because each ecological zone of Uganda has its strength in what you can do best" he said.

With a vision to promote and transform the agricultural sector in Uganda from the point of view of technical leaders, political leaders, farmers, the private sector, Operation Wealth Creation was launched by the Uganda government as an intervention intended to create a system that facilitates effective National Socio-economic transformation with a focus of raising household incomes for poverty eradication and sustainable wealth creation.

Gen Angina was speaking at the National Launch of activities to mark the 38th Tarehe Sita Anniversary at the Ministry of Defense Headquarters in Mbuya, a suburb of the capital Kampala. The day will be observed under the theme "Consolidating peace for sustainable development and prosperity". The main celebrations will be held on 6th February in the northern district of Kitgum.
President advises Teso Sub-Region on household poverty eradication

President Yoweri Museveni has told a delegation of Katakwi District local leaders that the National Resistance Movement Government is doing well in in several districts of Uganda as far as the strategic mobilization for improved household income is concerned.

"We have succeeded in wars of liberation. We are moving very well on the side of building the infrastructure. I, therefore, want the districts of Teso Sub-Region to be the next example in growing fruits, opening up fish farming projects, dairy farming, poultry and bee keeping. The Sub-Region should also be seen as an agent of change in socio-economic development to eradicate poverty at household level," he said.

The President was addressing a meeting of Katakwi District leaders from Eastern Uganda's Teso Sub-Region, who called on him at his country home in Rwakitura, Kiruhuura District, led by Usuk County Member of Parliament, Hon. Peter Ogwang.

He told the delegation that the people of Uganda should appreciate the advantage of society shifting from traditional to modern methods of faming in order to maximize production and profits by homesteads.

"What I emphasize for the people of Teso Sub-Region and the whole of Uganda is to denounce the practice of land fragmentation stemming from inheritance cultural beliefs," he added.

In a memorandum to the President which was presented by Katakwi District Chairperson, Elakas Walter Okiring, the people of Katakwi District thanked him for uniting all local leaders of their area regardless of their political divergent affiliations in order to discuss and harmonise the issues affecting Teso Sub-Region's development.

He enumerated the achievements realized in infrastructure development such as the on-going tarmacking of Soroti-Karamoja Road, the Ongole Dam water for irrigation and domestic use and the good security situation.

Other issues that the President and his Katakwi delegation discussed included the implementation of cattle restocking budget, the youth livelihood projects and establishment of vocational training centers in the region.


Every Sub-county to get industrial zones

President Museveni has passed out 9,000 graduates in Wakiso District and announced government pledge to set up industrial zones in sub-counties countrywide, according to a statement from State House.

Yesterday's statement quoted the President saying the industrial zones will be useful to the country by enabling citizens easily access training and support in organized ways. .

The 9,000 trainees, mostly women and youths received certificates in varied skills in catering and hotel hospitality, tailoring, hairdressing, bakery, piggery, making paper bags and making charcoal from garbage, among others. .

The woman Member of Parliament for Wakiso District, who is also the State minister for Education, Ms.Rosemary Seninde, organized the various groups under her non-profit agency, the Seninde Foundation. .

The graduation took place at Mandela National Stadium, Namboole in Wakiso District on Saturday. .

The President implored Ugandans and Africans in general to embrace commercial agriculture and value addition to their products, such as shoe making, milk processing, furniture and sewing sweaters, among others, saying that will stop the habit of donating value to foreign markets. .

"Africa is rich. If you want to know it, look at yourselves. Look at the shirt you are putting on and look at your shoes. If we start producing them here, we will save a lot of money that we donate to foreign markets," he said. .

He commended Ms. Seninde for the good initiative of empowering Ugandans and donated an assortment of equipment to the Foundation. .

The President also pledged Shs500 million to the Foundation to constitute a revolving fund to the organization at 1 per cent interest per month. .

Ms. Seninde thanked the President for empowering Ugandans.
Pakasa Forum: University students tipped on job creation

Citing innovation as key in running a successful enterprise, Mulwana urged the students to always think outside the box and be innovative so as to be job creators. Lt. Gen. Charles Angina urged the students to stop despising Agri-businesses because agriculture is one of the key drivers of Uganda's economy. Photos by Denis Nsubuga

The 9th edition of Pakasa Forum ended Thursday with a call on university students to focus on job creation. The Executive Director, Nice House of Plastics and chairperson of the Uganda Manufacturers Association, Barbara Mulwana was the key speaker at the event held at Makerere University. Under the theme Unlocking Students Potential, the forum attracted over 1000 people.

Citing innovation as key in running a successful enterprise, Mulwana urged the students to always think outside the box and be innovative so as to be job creators. She added that part of what makes entrepreneurs fail both in the short and long run is thinking that they always have to venture into something that has been explored by several other entrepreneurs who have actually secured the biggest share of the market.

The Executive Director, Nice House of Plastics and chairperson of the Uganda Manufacturers Association, Barbara Mulwana was the key speaker at the event held at Makerere University The event was also graced by Operation Wealth Creation's deputy coordinator Lieutenant Gen. Charles Angina who urged the students to stop despising Agri-businesses because agriculture is one of the key drivers of Uganda's economy and a lucrative venture. During the same event, Vision Group CEO Robert Kabushenga tipped the participants on the values of hard work adding that there is no short cut to success. He told the students not to think that they can make it through short cuts like sports betting. "There is no short cut to success. You have to put in the work," Kabushenga said. The panelists of the day included three young and successful entrepreneurs who shared moving testimonies about how they managed to set up successful enterprises.

They included Grace Naluggwa a former winner of Pakasa Youth Awards 2016 and currently the owner of St Lawrence Primary School located in Nansana, 24-year-old Ezra Kiriggwajo a third year student and proprietor of a chain of small businesses and Ruth Namara, 22, a third year student of Business Administration (BBA) and proprietor of a bakery.

The forum will be crowned by the 3rd annual Entrepreneurship Students Expo at Makerere University Freedom Square on Friday. Some of the students that attended the event Dr. Peter K. Turyakira the head of Department Marketing and Management said the Expo is aimed at enhancing students' learning and application of knowledge.

"This expo will offer students the opportunity to display what is learnt in class and is also an opportunity for them to begin planning for life after university. Students both graduate and undergraduate will exhibit different ideas in micro and small businesses at Makerere University Freedom Square," said Turyakira. Turyakira said over 1,500 university students are expected to showcase innovative ideas grouped under 200 businesses.
Karamoja and West-Nile sub-regions receive 33.8 billion (UGX)

The Swedish government has donated $9m (Shs33.8b) to support women in Karamoja and West Nile sub-regions to address climate change challenges and improve household income. The project will be implemented by the Food and Agriculture Organization (FAO) for the next five years.

The project; "Climate Resilient Livelihood Opportunities for Women Economic Empowerment in Karamoja and West Nile," will empower disadvantaged women and youth, including those in refugee camps and address the root causes of gender inequalities at both household and community level.

Ms. Priya Gujadhur, the FAO deputy country representative, yesterday said the organization will work with responsible stakeholders to ensure that it benefits the rural women, who suffer the biggest brunt of climate change impacts.

"This project is looking to effect change in the way we do agriculture by focusing on climate-smart agricultural techniques and change in the mindset of men, women and youth to be able to empower women and give them a voice as well as decision-making power within their households and communities," Ms. Gujadhur said.

She said the project will also make significant contribution to the implementation of FAO's current Country Programming Framework in Uganda (2015-2019) of sustainable production and productivity of agriculture, forestry and fisheries commodities in targeted populations.

The Swedish ambassador, Mr. Per Lindgärde, said his country remains committed to supporting Uganda in addressing issues of women empowerment, particularly with access to productive resources, improving livelihoods through increased production and productivity and increased resilience of poor people.

The new head of Development Cooperation, Mr. Ola Hällgren, said the project strengthens Sweden's belief in the need to build a strong nexus between humanitarian response and development in refugee hosting areas
Kabarole gives girls life skills

More than 500 primary school girls in Kabarole District have been empowered in life skills as one of the ways of having them complete education. The empowerment was in line with a series of activities that marked the International Day of Girl Child that is celebrated every October 11. The girls were drawn from different primary schools in Kabarole District.

The exercise was done by non-governmental organisations under their umbrella body Girls Not Brides Uganda with the aim of helping girls to overcome challenges. It involved teaching girls how to make re-usable pads that last for three years and on how to avoid teenage pregnancies while in school.

More advocacies needed

The Kabarole District Education Officer, Ms. Elizabeth Kasenene, observed the need to advocate for promotion of girl child life skills and ensure that they complete the education cycle. She said many girls drop out of school because some of them do not have pads to use during their menstrual periods which affects their education.

The Kabarole District Inspector of Schools, Mr. Joseph Rujumba, said there is need for team work between parents and teachers to see that girls complete school. The Kabarole District Community Development Officer, Mr. Chris Monday, said there is need for the civil societies to advocate for an ordinance on child marriage in local governments. He said many local governments do not have ordinances to guide them on how to deal with the perpetrators who marry off school-going girls.

The coordinator of Girls Not Brides in western Uganda, Mr. Geoffrey Bangirana, observed that child marriage remains a big issue that calls for serious awareness to change the minds of people and implementers to enforce the laws at all levels.

At Kazingo SDA Primary School in 2017, a total of 18 girls out of 50 that were enrolled in Primary One completed primary education and in 2018, a total of 20 girls are in Primary Seven ready to sit for Primary Leaving Examination of 63 girls who started Primary One at the school.
The Songhai model approach in Commercial Agriculture to encourage youth create jobs for themselves

The head of Public Service and Secretary to Cabinet, Mr. John Mitala, has challenged permanent secretaries to apply the Songhai Model approach in commercial agriculture to encourage youth create jobs for themselves. Mr. Mitala made the remarks on Friday at the end of a tour of the Songhai Integrated Model Site at Kampiringisa in Mpigi District by some Permanent Secretaries.

The site is being developed under the Uganda Green Incubation Programme by the Gender ministry. The Songhai Model is a regenerative integrated production system which uses agro-ecological practices to boost soil fertility, increase yields while protecting the environment.

The now eight-month old Model that originates from the West African country of Benin puts emphasis on; production of more with less, zero waste, creation of green jobs, inclusive economy and self-reliance.

"There is hope of using this model to potentially solve the question of unemployment and transfer of skills. As a chief executive of a ministry, the Permanent Secretaries will use the knowledge attained today to encourage youth to be self-employed instead of waiting for white collar jobs," he said.

Mr. Mitala, who said it is important for the Permanent Secretaries to acquaint themselves with what happens in other ministries, added that, such tours help them discuss authoritatively on different government projects. He revealed that Cabinet has given the Gender ministry two years to have set up the multi-billion project since production has been achieved within less than 12 months. "They are already moving ahead of time as everyone can see. Government will continue supporting this project," he said.

At the farm, the Permanent Secretaries who included Mr. Vincent Waiswa of ICT, Mr. Robert Kasande of Energy, Ms. Catherine Bitarakwate of Public Service, Mr. Kagole Kivumbi of the Judiciary and Ms. Edith Mwanje of East African Affairs, among others, had a guided tour of the seven sections of the site. These include market garden for mostly vegetables, aquaculture, piggery, free range for poultry; food crop unit for commercial purposes and agro-forestry. Some of the vegetables that have been grown and reached the first harvest stage are tomatoes, green beans, okra, cabbages, African garden egg plants, cucumbers and pepper. There are also 18 fish ponds stocked with fish and 35 pigs at the piggery unit.

Funding

Mr. Pius Bigirimana, the Gender ministry Permanent Secretary, said the site has been developed with funding from the government while the United Nations Development Programme (UNDP) finances the technical part which includes sponsoring trainings in Benin. "We want to be the first in East and Central African region to have huge production of organic goods and with this we will tap in the world market where organic products are on demand. We have started small but will grow big," Mr. Bigirimana said. He said the site manned by 13 youth trained in Benin last year will be self-sustaining in the next three years.
Farmers turn to soybean amid falling maize prices

Jinja Farmers in Busoga Sub-region have turned to growing soybean following a fall in maize prices. The farmers, who are organizing themselves into small soya agribusiness groups, say the crop has proved profitable due to its stable prices.

"In 2015, 10 members from different villages in Butagaya Sub-county, Jinja District, abandoned maize growing and switched to soybean growing and the money they got from it was unbelievable compared to what was being reaped from maize," says Mr. Sam Kigere, a farmer from Kamira Village in Butagaya Sub-county, Jinja District.

He adds that the group has now increased its membership to 62 farmers under Butagaya Soya Agribusiness Group. According to Mr. Kigere, the group was formed to collect soybean in bulk so as to be in a better collective bargaining position while selling. "Farmers resorted to growing soybean with the backing of Sasakawa Global 2000, an international NGO that in 2016 joined government to promote agriculture and development,"

Mr. Kigere says. Soybean, the farmers say, is drought and disease resistant and easy to grow while maximizing its yields. The farmers say under normal conditions, an acre of land generates between seven and eight bags of soybean, with each bag fetching Shs250,000 in a three-month season, which was not the case with maize. The farmers say the stable prices of the crop (Shs2,000 per kg) have increased their income.

"Since I started growing soybean, paying my children's school fees stopped being a problem and as I talk now, some of them are finishing university, which was not the case when I was growing maize," says Ms. Irene Nakisuyi, a farmer from Butagaya Village in Butagaya Sub-county. Ms. Nakisuyi adds that she uses only one acre of land to grow soybean. She, however, decries the lack of machine to help during harvesting and post-harvest handling.

Mr. Simon Peter Olupot, a soybean farmer from Wakatanga Village in Buyanga Sub-county, in the newly created district of Bugweri, says they formed a cooperative society that owns 26 acres of land ostensibly for soybean growing. "Our cooperative differs from others because it involves seed multiplication that we sell to other farmers for planting," he says. Mr. Olupot adds that Makerere University and Sasakawa Global 2000 help them in post- harvest handling.

"Makerere University and Sasakawa have skilled personnel in the field of agriculture and we move together as we go about production to ensure quality that we maintain the good prices for our soybean," Mr. Olupot says.

The Sasakawa Senior theme coordinator for post-harvest handling and agro processing, Mr. James Mulangira, while touring the soybean farmers in Busoga Sub-region recently, praised the quality of soybean produced by the farmers.

He, however, said government should focus on what the farmers exactly need such as subsidies, tools and inputs. "Farmers are willing to increase on their household income but lack such capacity which government must provide," he said.
Independence message from the President of Uganda "Change mindset, increase household income"

President Yoweri Museveni has re-echoed the need for Ugandans to change their mindset and carry out commercialized agriculture so as to increase their household income and become wealthy.

The President was addressing the nation during the 56thIndependence Day celebrations held at Kasasa grounds in Kyotera District. The celebrations ran under the theme 'Standing Tall as We Celebrate Achievements of our 56 Years of Independence.' He congratulated all Ugandans on their country's 56th Independence anniversary.

"Many people don't understand the role of commercial agriculture yet and are still relying on subsistence agriculture. I encourageall Ugandans and every family that has more than one acre of land to embrace operation wealth creation services whose mandate is to deliver farm inputs to peasant farmers for the aim to transform the 68% of Ugandans outside the money economy. We have a tendency of coming here to celebrate but we celebrate in poverty," he noted.

President Museveni also used the occasion to inform Ugandans that prior to his coming to the celebrations, he had launched CCTV cameras' installation project in Nateete. He, therefore, re-assured the public that the CCTV camera project would soon spread across the country adding that the project would help reduce the current crime rates in Kampala City.

"Because of the congestion of the City, criminals have taken advantage of it and have managed to kill few people. The only power that these urban criminals have is to hide like mosquitoes and lice. These people are cowards for not fighting openly. They are lice! They have touched on leopard's tail and they will see," he said.

President Museveni was happy to note that Uganda was doing well economically and progressing. He said that the country's economy has grown by 6.1% and attributed it the increased infrastructural developments such as roads.

During the celebrations a number of people were awarded medals for their contribution and service to Uganda. The medals' categories included the Golden Jubilee Medal for outstanding individuals that had served Uganda in the last 50 years; the Nalubaale Medal for civilian activists who had politically contributed to the country; the Rwenzori Star Medal being the highest military decoration given to soldiers for exemplary military service and the fourth medal category was Masaaba Star medal, the highest military decoration for outstanding service in the military.

The deputy chief coordinator of Operation Wealth Creation, Lt. Gen. Charles Angina, the vice-President, Edward KiwanukaSsekandi, Speaker of Parliament, Rebecca Kadaga, Prime Minister, RuhakanaRugunda, Deputy Chief Justice, OwinyDollo, Members of Parliament, heads of diplomatic missions and local dignitaries, among others, attended the celebrations.
H.E the President of Uganda roots for Industrialization
President Yoweri Museveni has urged government leaders to advocate for industrialization of the Ugandan economy noting that with the natural resources and agricultural raw materials that Uganda is endowed with, the country should be able to carry out agro-processing activities by linking agriculture to industries.

The theme for this year s retreat focuses on Industrialization to create jobs and shared prosperity. I am glad that government workers are now recognizing the importance of industrialization in job creation. Although civilization started in Egypt, Africa has not taken full advantage of this to industrialize. The chiefs failed to protect Africa from colonization, which distorted our progression towards industrialization.

However, even after independence, the leadership then did not do much to industrialize Africa. For an economy like ours to be modern, it must be founded on four sectors; commercial agriculture, industry, services and ICT. When there was a recession recently in Europe, countries like Germany, which are mainly rooted on industries, did not suffer as much loss as those hinged on services (hotels, banks,). This means industries are stronger bedrock for the economy.

Uganda is endowed with resources and can tap into all the four sectors mentioned above. Countries like Japan do not have as much resources, for example to engage in agriculture, but they have industry based on human intellect. Uganda has potential for agriculture, industry and ICT.

Our industry should be based on agriculture and we have started on this. The ministry of trade and the Uganda Investment Authority should encourage more cotton-based industries because we have the raw material. The same should apply to coffee, through vertical integration. Besides agro-processing, we are critically looking at industry based on the minerals. For example the huge deposits of copper in Kasese should be linked to production of cables, transformers.

It is why I have insisted that companies licensed to exploit these resources should have capacity to process them into final products like electricity cables for the copper industry. This is what we are doing with phosphates in Tororo. We have also begun supporting innovations in ICT though this calls for more skilling. We are building the Standard Gauge Railway to make transport competitive and enhance industrialization.

The President assured the officials at the retreat that with the building of the Standard Gauge Railway, industrialization would become very profitable as there would be quick and cheap transport to facilitate the movement of already manufactured products.
His Excellency the President of Uganda attracts the Chinese investors

H.E President Yoweri Museveni has said that the potential cooperation between China and Uganda is so vast with many investment opportunities in agro-processing, mining and industrialization sectors. The President made these remarks in a meeting with the visiting Chinese Hunan Province Governor Xu Dazhe and his delegation that called on him last evening at State House, Entebbe.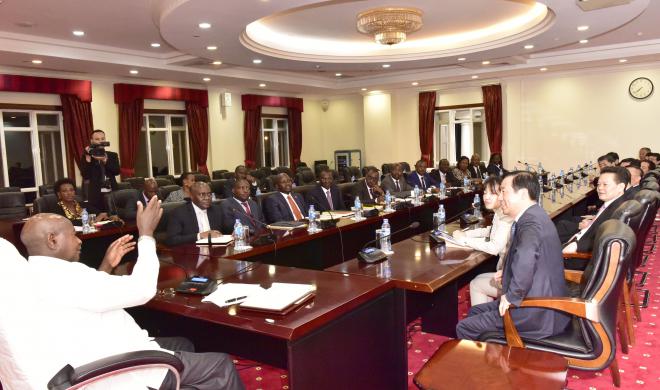 He informed his guests that Uganda produces a lot of coffee, fruits, cassava, sim-sim and wants to set up industries to process the food products to add value and create job employment opportunities. "The potential for cooperation between China and Uganda is big. What we want is a reliable market for agro-products. Once we have the demand, we can produce whatever is needed," he said.

Citing coffee, the President said its production has grown from 2.8 million bags to 5 million bags today with an aim of producing 20 million bags in the near future. He, therefore, urged the Chinese investors to set up factories that make machine tools needed by other factories. "We need to produce machines for different factories here and for the region," he said.

According to Uganda Coffee Development Authority (UCDA) statistics, national coffee production increased by 1.3 million bags in 2017 compared to 2016. Uganda is second largest coffee producer after Ethiopia in Africa. On mining, the President said that government was in the process of modernizing its mineral laboratory so as to supply the local industries.

"We used to produce copper here during the British times but it was processed only up to 94% and the copper ingots would not be used in our transformers. We would end up exporting copper ingots and importing more processed copper to come back to our factories," he said.

Governor Dazhe said that like Uganda, Hunan Province is very strong in agriculture and presents many opportunities for cooperation with Uganda in that sector in order to achieve a win-win result for the two Countries. State Minister for Planning, David Bahati, of State for Tourism Godfrey Kiwanda, Uganda's Ambassador to China, Crispus Kiyonga, among other officials, attended the meeting.
WORLD BANK CALLS FOR MORE FUNDING TO AGRICULTURE

Government must improve public spending on Agriculture, implement policies and regulations, build and strengthen the current institutions if the Country is to realize its Agricultural output potential, a new World Bank report has recommended.

The report titled "Closing the potential performance divide in Ugandan Agriculture" says weak public institutions for promoting Agricultural productivity at the level of small farms, inefficiencies in public expenditures and implementation of regulation and policies remain some of the biggest issues affecting the Agricultural sector.

Launching the report in Kampala yesterday, the World Bank Country manager, Ms. Christina Malmberg Calvo, said government must get its priorities right if the sector is to achieve the desired targets.

Ms Calvo said the issues of fake inputs, low investments in the Agricultural sector and other challenges must be addressed. She called for a deliberate move for commercialisation through value-addition and trade; strengthened public institutions and policy implementation, and enhanced resilience of Agriculture production and rural livelihoods.

"Economic growth and poverty move with the fortunes of Uganda's Agriculture sector, which in turn, depends on the whims of the weather. Farmers will not invest in commercial Agriculture while counterfeit and poor-quality inputs dominate the market. They need to be able to trust the distribution system, and have tenure security and access to finance," she said.

Mr Holger Kray, the head of the World Banks Africa Agriculture Policy Unit and the study leader, said the government must adopt climate smart Agriculture to fight the adverse effects of climate change in the Country. "A productive and climate-smart Agriculture sector requires an effective enabling environment. Providing that environment is the role of the government. Uganda's Agriculture sector may not be transformed overnight. But making the right adjustments now will be critical to realise the Vision 2040," he said.

He stressed that strengthening the institutional base of Agriculture can help to close the divide between the potential and actual performance of Uganda's Agriculture.

According to the report, national Agricultural output has grown at only 2 percent per annum over the last five years, compared to output growth of 5 percent in other East African Community members and yet Uganda's population continued to grow at 3.3 percent per annum over the same period.
MITYANA DEMONSTRATION FARM

The Deputy Chief Coordinator (DCC) of Operation Wealth Creation, Lt. Gen Charles Angina was hosted by the State Minister for Tourism, Hon. Kiwanda to inspect the progress of a demonstration farm in Mityana North. The preparation is still ongoing which will soon be complete by the time His Excellency the President of Uganda Visits the farm next month.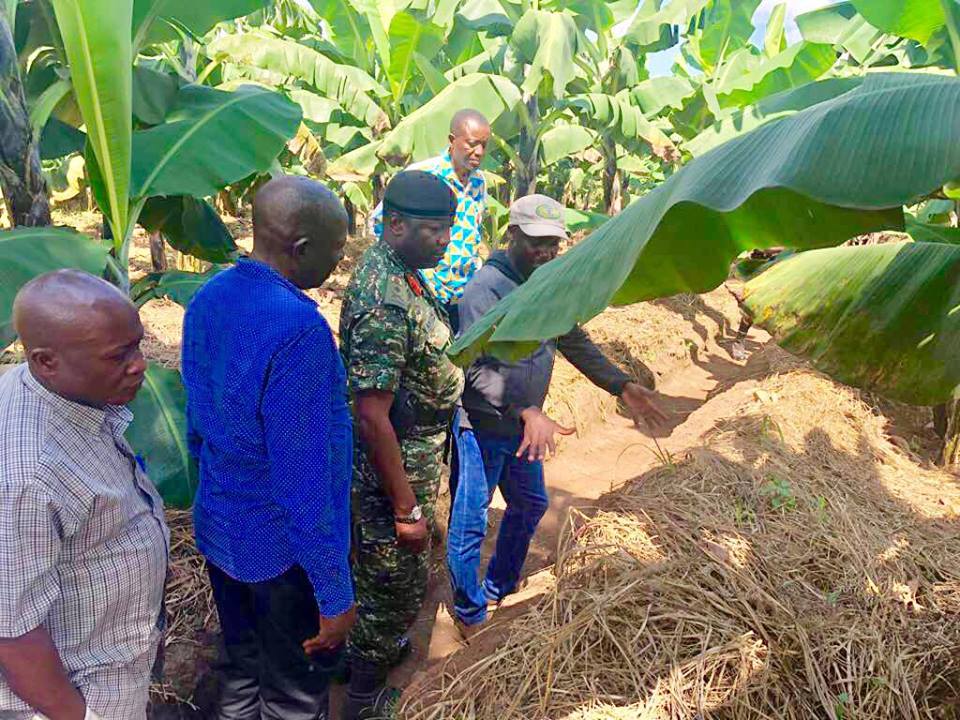 The DCC commended the Minister for being a true model Citizen in the fight against poverty in the District and how he is synergizing Agriculture which is the backbone of our Economy with his efforts to promote Tourism both locally and internationally.

The State Minister together with his team were encouraged to continue and effectively apply the demonstrating simple techniques such as mulching and irrigation from springs to mitigate effects of drought instead of waiting for rains.
SOLAR-POWERED WATER PUMPS

The President of Uganda Yoweri Museveni has categorically highlighted the importance of solar-powered water pumps to drive the Economy of the Country. He has identified the dynamism of change not only in the Agricultural sector but climate. Despite heads up on the coming of early rains, the showers of blessings have not been adequate to facilitate the growth of the crops in the Country.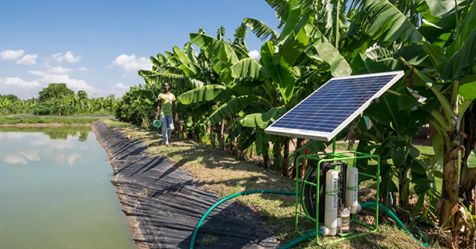 The President has therefore urged investors to come up with solar solutions for the prevailing predicament. Solar energy has been viewed as an integral energy resource by experts, sourcing its strength from the sun. It is an environmental friendly means with great potential to steer the economic prowess of any country.

Uganda plans to increase the irrigation coverage as it plans to expand the agriculture sector. Other than waiting for the rain, irrigation ensures crops are supplied with water in a regular basis for their germination. Some lands have not been utilized, and could be a great deal for farming practices.

The Government is ready to work with the investors to help farmers access these facilities and services at minimal cost. President Museveni anticipates that the pumps will be used in the government irrigation schemes and extended to the farmers.

His Excellence the President has an approach to slice the financial budget for the sector which will came into question with analysts raising concerns over the backbone of the Countrys economy. More funds were required to finance development projects in the Country and help the sector grow. It is yet to be seen if this approach would water down the lamentation for more funds.

Farmers have been urged to apply more fertilizers to booster their harvests. They have expressed their willingness to use the fertilizers.
UCDA, OWC JOIN HANDS TO ENSURE QUALITY COFFEE
Ntungamo - Uganda Coffee Development Authority (UCDA) has joined hands with Ntungamo district Operation Wealth Creation (OWC) to ensure that high quality coffee is produced in the district.

Brig. Tumwebaze John-Okello, the Ntungamo OWC boss, flanked by UCDA officials warned coffee hullers and processors against disregarding the laws governing producing coffee, something that has resulted in production of poor quality coffee. Tumwebaze made the remarks during the Ntungamo Coffee Hullers Association meeting at Kyahweire Tourist Hotel in Ntungamo.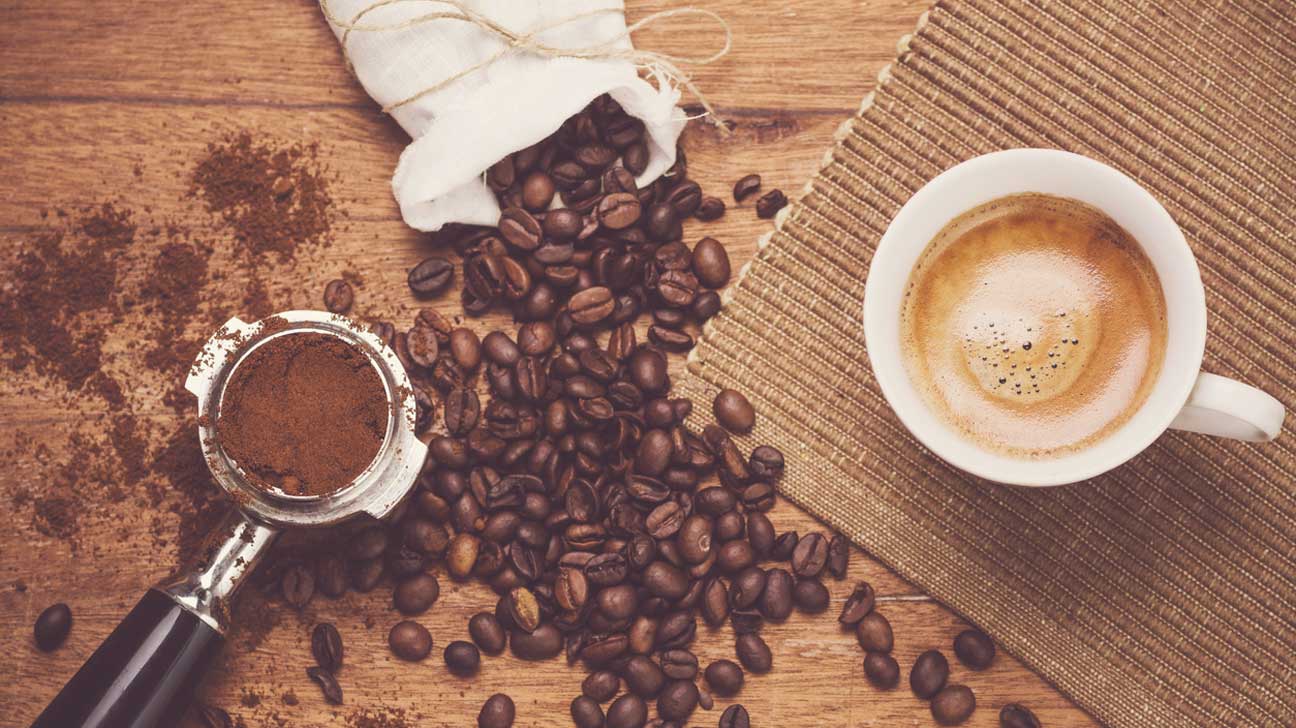 Robert Tumwesigye, the UCDA western regional co-ordinator, said most of the coffee dealers and factory owners buy and process row coffee. He noted that Ntungamo is ranking high among districts that deal in poor quality, something which has to stop. Tumwesigye also warned coffee factory owners to follow the UCDA set standards and put up permanent structures, He added that those who do not comply would be penalised and have their licenses cancelled.

Tumwesigye also urged the coffee dealers to promote the high quality so that it can maintain its market as it is exported outside Uganda. Tumwebaze in the district warned that those hullers who are after money without, disregarding the quality of coffee would be arrested.

Ntungamo resident district commissioner Justine Mbabazi gave coffee dealers and factory owners an ultimatum of four moths to put up permanent structures.The enforcement comes after President Yoweri Museveni warned that coffee dealers found compromising the quality of coffee would be arrested because coffee is among the Uganda's major cash crops, whose quality should be upheld.
OPERATION WEALTH CREATION BEGINS TO REGISTER POSITIVE RESULTS.

Operation Wealth Creation which was launched as a pilot project in Nakaseke in 2013 by H.E the President and eventually rolled to the whole country has started registering positive results.

Production and Productivity volumes of most strategic crops has started to raise steadily.

For instance coffee exports has raised from 3.6millon 60kg bags in 2014 and 2015 to above 4.6million bags in 2017 and expected to continue raising.



Coffee Exports by Type 1991-1992 to 2016-2017
Source UCDA
The main two mandates of Operation Wealth creation is to;

1. Distribute farm inputs to peasant farmers

2. Coordinate government Ministries, Departments, and Agencies (UCDA, NARO, DDA, CDO, UIRI, etc) for improved service delivery aimed at transforming the 68% Ugandans outside the money economy by 2020

The Operation has started registering positive results as indicated in the table on the side